Facebook Marketing Strategy for Small Businesses – 7 Things You Must Know
[social_warfare post_id="5330"]
With around 2.23 billion monthly active users, Facebook is a powerful social media channel as nearly all consumer markets are on Facebook. This dominance makes Facebook an unavoidable channel for any business or brand that focuses on social media marketing. In this article, we will be discussing seven things you must know about if you want your business to make an impact in the Facebook marketing space.
FACEBOOK BUSINESS MANAGER  
Facebook Business Manager is a tool that allows you to create, publish, monitor, and track your business' Facebook pages or Facebook ads. It's a one-stop solution for managing ad account and pages and provides different access levels (partial or full access) to the people who work on them.
Facebook is a fantastic marketing platform for SMBs as it is the cheapest forms of advertising. You could spend as little as $5 to reach a wide audience of around 1000. Another major benefit is the ability to reach the exact audience by filtering based on demographics, interests, and behavior. So if you know who your customers are, then Facebook advertising allows you to target them efficiently, making sure your spend is optimal.


FACEBOOK BLUEPRINT (ONLINE FB TUTORIALS) 
Now that you have realized Facebook is one of the top platforms for reaching out to your potential customers, it is time to understand the social media platform and learn how to promote your business using Facebook marketing campaigns.
Facebook Blueprint is an eLearning platform by Facebook, where you could choose a tailored learning path based on courses suitable for your role. Facebook Blueprint offers 76 courses in a wide variety of topics to hone your Facebook marketing skills. You could also choose to establish your Facebook marketing expertise by getting certified.
Currently, Facebook offers two certifications– Facebook Certified Planning Professional and Facebook Certified Buying Professional, covering two areas of expertise. These courses will enable you to become proficient in planning successful Facebook advertising campaigns, creating and buying Facebook advertisements for maximum campaign impact.
FACEBOOK AUDIENCES
Based on your understanding of your target market, the next step is to plan your business' Facebook marketing campaigns and set SMART objectives.
Once you have planned your Facebook marketing campaigns, the next step would be to decide the audience for your ads. Facebook has three options for choosing your target audience.
Core Audience – This is the basic targeting mechanism on Facebook where you will have to manually select your audience based on their demographics, interests, location, and behavior. As a business, it is important to understand your buyer persona and identify the age group, location, behavior, and interests of your target audience. Core audience targeting allows you to cater ads to these identified groups by filtering based on the above-discussed parameters.
Facebook Custom Audience – Custom audience permits you to get in touch with people you already know. They may be existing customers or users who have connected with your brand beforehand. Custom audiences help you to find your existing customers and contacts on Facebook so you can foster relationships with them and drive sales.
You could build custom audiences on Facebook using three key sources- contact lists/email marketing lists, website visitors, and mobile app users.
Building a custom audience from contact lists is a very simple process where you could upload, copy and paste or import your hashed customer list. On the other hand, building custom audiences from both website visitors and mobile app users requires an initial set up. For building custom audiences using website visitors, you'll have to install Facebook Pixel on your website. Facebook Pixel is a snippet that has to be installed on your website to track your website audience and map them with their Facebook profiles.
You can read more about building custom audiences from your website data.
In the case of mobile apps, you are required to install a snippet, Facebook SDK 0, in your mobile app to track user behavior and map it to the Facebook users.
Lookalike Audience – Lookalike audience are audience groups built based on people who are similar to your customers or contacts. It is a way to reach new people who are likely to be interested in your products and solutions because they are similar to your existing high valued customers.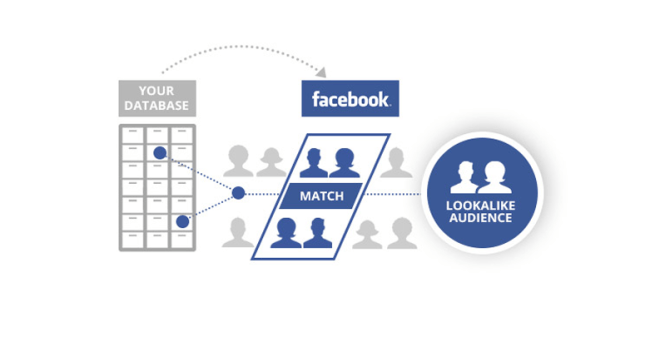 Lookalike audience, similar to custom audience, can be built from three sources- customer lists, website visitors and page fans.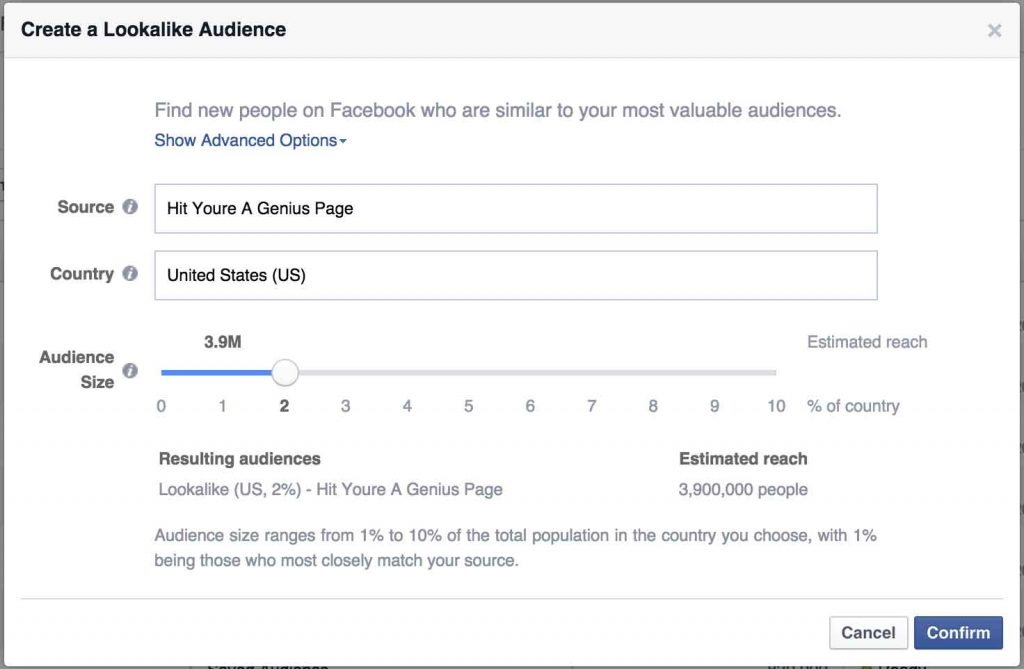 When you create campaigns targeting a lookalike audience created from your highly valued customers, it is highly likely to have a high conversion rate. Audience size you choose while creating the lookalike audience determines how similar they are to your customers. If you choose 1% then the audience would be extremely similar to your existing customers, but the volume would be less, whereas, if you choose 10%, estimated reach will be very high but similarity and quality of lookalike audience will reduce.
You could also create a lookalike audience for people who spend a considerable amount of time on your website's product pages. This way, you can target an audience who are considering your products and drive them towards conversion.

FACEBOOK PIXEL
Facebook Pixel is a tracking code similar to Google Analytics tracking code that has to be installed in your website, so that it can track various actions visitors perform on your website. This tracking data could then be used by your business to create custom or lookalike audience for your Facebook advertising campaigns. Here's how it works: 1) When a visitor visits a page on your website, the facebook pixel (just an image) loads and this shares and connects your user's activity on your website (e.g. the page that just loaded) with Facebook. 2) This "loading pixel image" sends data to Facebook about you, such as an anonymous "user ID" which identifies you/your computer and may even connect it to your Facebook user profile.
The primary role of Facebook Pixel is to retarget your website visitors with Facebook ads as they navigate to other sites out on the web. If you've visited a product page on Amazon, then seen an ad for it as you browse other sites away from Amazon, this is an example of retargeting, which we'll talk about in greater detail below. Facebook Pixel enables you to optimize ad delivery to those who are more likely to take action and also allows you to track conversions from Facebook ads.
Facebook Pixel may also be deployed via Google Tag Manager. This process is simpler if you have already installed Google Tag Manager for your website. You could just opt for quick installation by selecting Google Tag Manager from the set of tools. Installing Facebook Pixel via Tag Manager is not just convenient but also shares in-depth data with Facebook.
Custom audiences can be built keeping in mind the KPIs so that your Facebook advertising campaigns drive your business to achieve marketing/ lead generation goals.
If this seems very technical it can be, but it's not once you are familiar with how to do this.
FACEBOOK REMARKETING
Facebook Remarketing works in a similar manner as that of AdWords remarketing, but unlike AdWords ads that are shown across various websites across the Google Display Network, Facebook retargeting ads are shown only on Facebook. Facebook commonly refers to remarketing as custom audiences.
Pixel tracks your website visitors and enables you to create a custom audience using the tracking data. You could retarget website visitors based on various actions they perform on your website or mobile app. You can also retarget your existing customers by uploading lists on Facebook. You can target users who have abandoned their cart on your eCommerce website or those users who have visited your lead generation page or pop up but didn't complete registration.
Facebook may not be a great platform for small and medium business to prospect and identify new customers, but it is a great platform for remarketing. Multiple touch points with potential customers on Facebook could substantially improve conversion rates on other channels and also get you repeat customers.
FACEBOOK MESSENGER MARKETING
Messenger apps have surpassed social media networks and Facebook Messenger has a whopping 1.3bn people using the app every month. Moreover, Messenger Marketing has a very high open rate of 80% and CTR of 30%. So it's an opportunity for your be early and grow your messenger following.

Your business could use Messenger to enable your target audience to read the most relevant articles for them. Chatbots for messenger marketing have become popular over the years. They automate opt-ins as well as regular messaging making it easy for your business. You could send offers and promotions via Facebook Messenger with the help of chatbots and you could also automate your messenger customer support.
You may think that creating a chatbot would be expensive and would require a lot of coding. Here is an article by Matthew Barby on Hubspot, which explains how you could build a chatbot to interact with your followers using ChatFuel.

FINAL THOUGHTS
Understanding the Facebook advertising platform and learning the nuances of creating and monitoring Facebook campaigns would prove to be extremely beneficial for your business as it would help you in achieving your Facebook marketing KPIs.
There is a massive ocean of consumers on Facebook and Facebook Messenger. This offers tremendous potential for businesses, however only careful planning and effective implementation can help you achieve your desired goals. Following the steps covered in this tutorial is a great way to get started advertising your business on Facebook. If you need help there are many credible experts who can help your business get started the right way on Facebook. Good luck!

Join Your Fellow Growth Marketers in…
Deltagency's Library of Valuable Growth Resources